SAYING "THANK YOU" TO AMERICA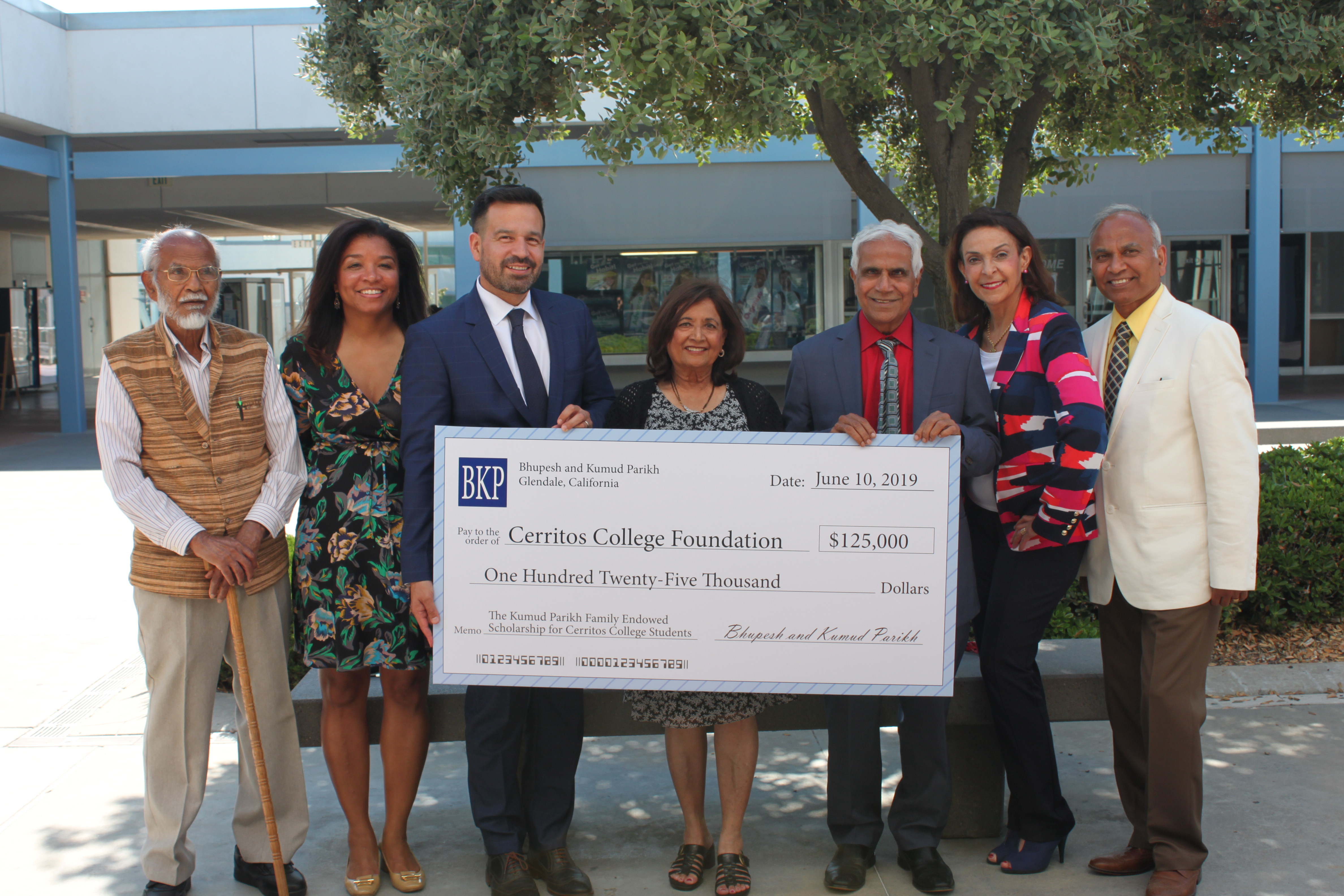 Parikh Family Pledges $150K Gift Toward Cerritos College Student Scholarships
For Immediate Release: June 27, 2019
Contact: Aya Abelon; Public Affairs; 562-653-7878
NORWALK, Calif. - June 27, 2019 - Cerritos College today announced donors Bhupesh and Kumud Parikh established the Kumud Parikh Family Endowed Scholarship in the amount of $125,000 for Cerritos College students. The Parikhs also pledged to raise $25,000 for additional scholarships, totaling $150,000 toward student success.
The Parikh family has a long history of philanthropy in higher education, community colleges and four-year institutions in the United States. The Parikhs have a strong connection to Cerritos College through their community and business partnerships in the City of Artesia. The City has a thriving Indian community in Southern California.
"After having the opportunity to spend some time with the Parikhs, I am humbled by their generosity and their love for the United States of America and the opportunities this country has afforded them," said Dr. Jose Fierro, President/Superintendent of Cerritos College. "Their generous gift is a testament of their commitment to open the doors for higher education to everyone in our community."
"It just feels right to support Cerritos College and its students. The campus is beautiful and open to the community. Most importantly, it provides a high-quality education for students, many of whom are from economically disadvantaged backgrounds," said Mr. Parikh. "If we give to the small community colleges where we live and work, and where we make money, that is beneficial. It is our way of saying thank you to America."
"The Cerritos College Foundation is honored to accept the generous endowment from the Parikh family," said Clara Potes-Fellow, the Foundation's Interim Executive Director. "Their gift makes it possible for Cerritos College students to receive scholarships for years to come, and adds to the Foundation's Finish Great campaign to raise a scholarship endowment of $8 million."
Bhupesh immigrated to the United States in 1960 from Kadi, India. He earned his M.S. in structural engineering from the University of Southern California in 1964 and began a successful commercial real estate development practice, Pari Enterprises in Glendale, California. He is a founding trustee of Shreeji Temple located in Southern California and two local banks. The Jain Center of Southern California recognized Bhupesh for his outstanding contribution in the construction of the Jain Bhavan in 1988. Subsequently, Kumud is a well-known Gujarati literary author who has published three short-story collections.
The Kumud Parikh Family Endowed Scholarship is currently receiving gifts from friends and family. Interested donors can contact Monica Lee Copeland, Development Officer at [email protected] to contribute. "We have many ways for the community to make an investment in our students as the Parikhs have done. We invite interested parties to take a tour of the campus and explore the possibilities." The Foundation also thanks Anand Rao, President of The Leprosy Society and Parimal Shah, Owner of Pioneer Money and C0-Chair of the CCF Campaign Leadership Committee for helping us build relationships with Mr. and Mrs. Parikh.

About Cerritos College Foundation: The Cerritos College Foundation, a non-profit organization, serves as a charitable vehicle for the community, individuals, and alumni, to assist with the financial support of Cerritos College beyond that which state funding supports. Visit the Foundation online at www.CerritosCF.org
About Cerritos College: Cerritos College serves as a comprehensive community college for southeastern Los Angeles County. Communities within the college's district include Artesia, Bellflower, Cerritos, Downey, Hawaiian Gardens, La Mirada, Norwalk, and portions of Bell Gardens, Lakewood, Long Beach, Santa Fe Springs, and South Gate. Cerritos College offers degrees and certificates in more than 180 areas of study in nine divisions. Annually, more than 1,200 students successfully complete their course of studies, and enrollment currently averages 23,000 students. Visit Cerritos College online at www.cerritos.edu/
-END-