LETS RAISE $100,000 IN EMERGENCY FUNDS TOGETHER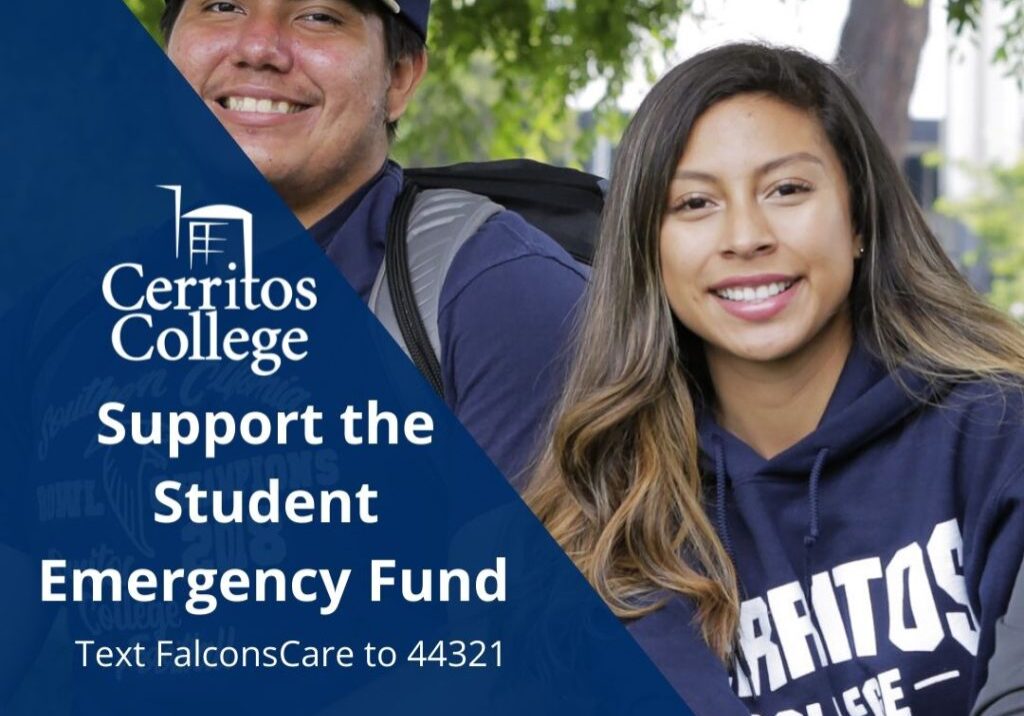 PIH Health Donates $10,000 to Cerritos College Student Emergency Fund
For Immediate Release: March 23, 2020
Media Contact:  Miya Walker, Public Affairs; (562) 860-2451 ext.2292
NORWALK, Calif. – March 23, 2020 – The Cerritos College Foundation today announced a major gift of $10,000 from PIH Health toward the Foundation's Falcons Care campaign to raise at least $100,000 for a Student Emergency Fund. Contributions will be used to help Cerritos College students facing urgent needs such as food insecurity, housing insecurity, job loss, or lack of educational resources in light of the coronavirus (COVID-19) outbreak.
Cerritos College is transitioning to an online environment for instruction and student services to help mitigate the spread of COVID-19. According to the 2019 Cerritos College #RealCollege Survey Report, 65% of students at Cerritos College experienced at least one form of basic needs insecurity in the past year. With the shift to online learning, many students struggle to secure additional educational materials such as a laptop, reliable internet, supplies, and software to complete coursework online. The Fund aims to help students continue progressing toward graduation in this uncertain time by reducing urgent basic needs insecurity or unexpected expenses.
"At PIH Health, we know that good health begins where we live, learn, work and play. That is why we focus on the most pressing health needs of our communities, responding with the very best in healthcare and innovative partnerships with valued community partners, such as Cerritos College, to help our communities meet their most basic needs," said James R. West, President and Chief Executive Officer, PIH Health. "Together, we can make a difference in the lives of many."
"During this incredibly challenging time, emergency aid can make all the difference in the world to our students," says Dr. Jose Fierro, President/Superintendent, Cerritos College. "We are incredibly grateful to PIH Health for stepping forward so quickly to support this urgent effort."
Students in need of emergency assistance for one-time expenses or help with necessities such as food and housing can complete the application for aid. College faculty and staff will refer students who need assistance. An urgent response team will review applications as they come in. Student Services staff will reach out to students to help assess their needs and connect them with all available resources and support.
The Falcons Care Campaign will also provide ongoing support once normal campus operations resume. To learn more or to make a gift, visit http://bit.ly/FalconsCare or text FalconsCare to 44321.
-END-